John Flynn Private Hospital – Flower Delivery Service to  John Flynn, Tugun
A stay in hospital can be a joyous, sad or challenging time for everyone…patient, friends and family alike.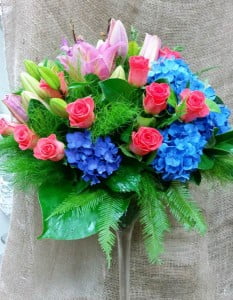 We can help lighten the stress of a hospital stay for you, if you can't get to visit, with a guaranteed same day flower delivery to John Flynn Private Hospital.
Let them know you care, send your best wishes for a speedy recovery,  your support for a longer hospital stay, or congratulations on the birth of a precious baby, with a flower delivery to John Flynn Private Hospital.
We offer  the freshest flowers in beautiful modern or traditional designs, new baby hampers, some luscious chocolates or a basket of seasonal fresh fruit to brighten up any hospital stay.
Scheduled Deliveries Every Day
We have a scheduled flower delivery to John Flynn Private Hospital twice daily, so… Cheer them up with gorgeous flowers, a customised pamper hamper, or tempt a jaded palate with a scrumptious fruit & snacks pack, selected by our experienced staff and made to order fresh daily.
Check for Acceptable Gifts at John Flynn Private Hospital
John Flynn Private Hospital offers a range of patient care facilities, so we suggest you check with the hospital that your gift is acceptable for the patients' ongoing medical needs, as patients in ICU, or who are seriously ill may not be able to receive flowers or gifts.
If that's the case, we can arrange for delivery to the patient's rehabilitation ward as they begin to recover, or to their home once they are discharged from hospital
You can also pre-book a flower delivery to John Flynn Private  Hospital for a friend or relative who will attending scheduled surgery at a later date.